Now, this is what I call the trash taking itself out!
In what every red-blooded Patriotic American can consider a huge Christmas gift, Kathy Griffin has just announced she will be leaving the United States for at least four years. And the reason is that, of course, she hates President Donald Trump.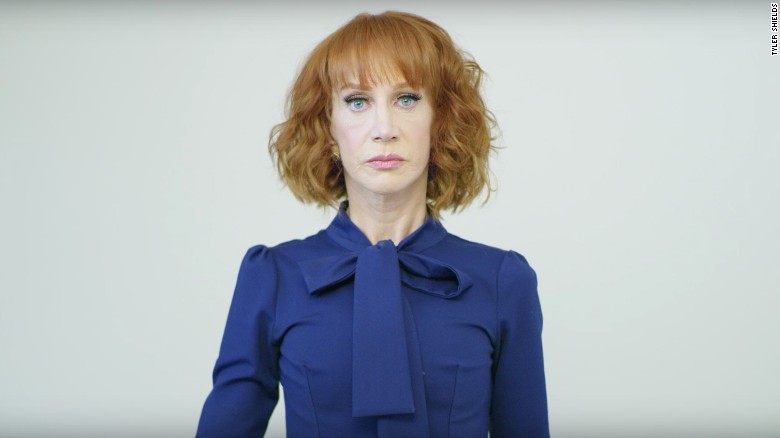 After Griffin participated in a gruesome photo shoot which featured the so-called comedienne holding a bloody, decapitated fake head resembling President Donald Trump, not unlike her Isis counterparts. Celebrities, and prominent media figures expressed a range of responses on social media, with many criticizing the image as being in bad taste.
Although Kathy Griffin has "apologized" for the gory image she created with photographer Tyler Shields, it seems both sides of the political aisle weren't impressed by it and she has managed to bring her career to an abrupt end.
Obviously, she has wasted no time in playing the victim card and declared that at age 57 she doesn't have a lot of time to be patient. Griffin begged people not to be "too hard" on her after claiming to be in the middle of a Hollywood blacklist and added that when she gets back home she doesn't have one single day of paid work in front of her. Awww. poor little liberal.
She pulls an awful stunt like she did and she is the poor victim. Maybe in her book, but not in the book of Americans, both on the left and right sides of the aisle.

The Huffington Post Reports:
Kathy Griffin Referred To Anderson Cooper As A 'Spineless Heiress'
The comedian made the comment to the Daily Beast during an interview about Lisa Bloom.
Kathy Griffin isn't pulling any punches.
On Sunday, the Daily Beast published an article in which the comedian referred to Anderson Cooper as "the Spineless Heiress."
Griffin's comment was part of an article about her public dispute with former attorney Lisa Bloom, who represented her after photos of Griffin posing with President Donald Trump's "severed head" surfaced online in May.
The controversial pictures not only cost Griffin her CNN New Year's Eve hosting gig, but also spurred Cooper, who was Griffin's co-host and longtime friend, to condemn them on Twitter.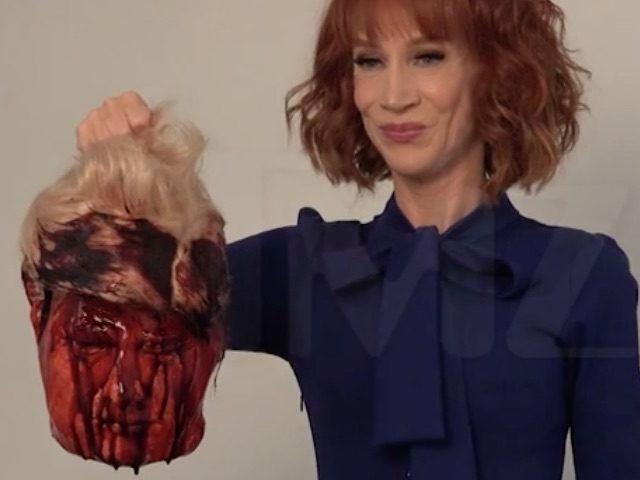 @andersoncooper
For the record, I am appalled by the photo shoot Kathy Griffin took part in. It is clearly disgusting and completely inappropriate.
Cooper didn't reach out to give Griffin a heads up about his tweet before he posted it and didn't initially check in on Griffin after she received backlash for the photos, which hurt her feelings, New York Magazine reported.
Adding insult to injury, Cooper went on "Watch What Happens Live" in July and told host Andy Cohen that he and Griffin were "still friends." When Cooper finally reached out to Griffin in a series of texts in August, she ended their friendship.
Cooper is the son of clothing designer Gloria Vanderbilt, who is a descendent of shipping and railroad tycoon Cornelius Vanderbilt.
He told People in 2016 that he will not inherit any of the Vanderbilt fortune, and acknowledged that he was very lucky to grow up with "great privilege."
During Griffin's interview with the Daily Beast, she expressed her disappointment with Bloom.
Griffin estimated that she paid the celebrity attorney $40,000 for two days of legal representation, and said that Bloom tried to pressure her into a press tour. Griffin added that a press conference she did with Bloom in June was a mess.
The comedian also tweeted at Bloom on Sunday, telling her, "Stop calling me. If you'd like to refund me the tens of thousands of $$ I wasted on your services maybe I'll talk to you."
@kathygriffin
Dear @LisaBloom pls stop calling me. If you'd like to refund me the tens of thousands of $$ I wasted on your services maybe I'll talk to you
Bloom — who also represented Harvey Weinstein before cutting ties with him earlier this month — told the Daily Beast that the press conference was a disaster because Griffin spoke off the cuff and did not use notes the two had worked on together. She also said she had only texted Griffin once in the past three months.
"The last time I spoke to Kathy, at a group dinner recently, she gave me a big hug, was very friendly and said everything was great between us," Bloom said. "I had no idea there was a problem until a reporter reached out to me about this a few days ago."
The announcement that she's leaving the US came a few days after the has-been entertainer fainted on stage in Dublin. Because being an extreme left-wing hack must be draining work.
Thank you for an amazing night Dublin! pic.twitter.com/SBRmkjgmHB

— Kathy Griffin (@kathygriffin) November 8, 2017
Glad to see both sides of the political spectrum coming together and saying she went too far. And at the age of 57, she should have known better and there is no excuse imaginable. This wasn't just a tweet that came out in the heat of the moment. This was planned out and she had weeks, if not months, to think about what repercussions she would face for putting this picture out there.
Please share if you are happy to see her go for the at least the next 8 YEARS….